One System That Does It All
LIVE TIMING
AND RACE MANAGEMENT
No one else in the industry can offer one platform that includes Best-In-Class Race Day Management Tools, Live Timing, Pre-Registration and Automatic Scoring!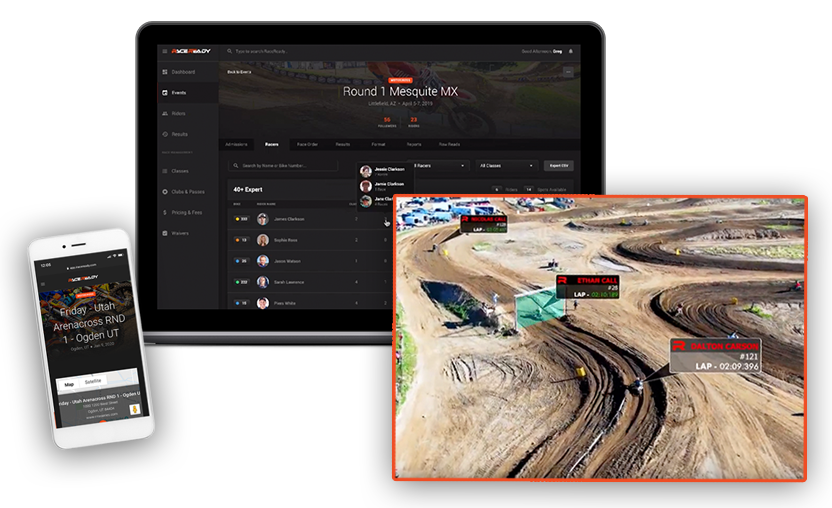 RaceReady is an online platform where race promoters can manage every aspect of their event all in one place.
Registration
Sell memberships
Plan your whole season in advance
Offer

pre-registration online

Sell camping spots
Sell event t-shirts
and much more!
We work with you to customize your RaceReady account to handle all of your pre-race needs.
Racing
Save time during morning registration
Quickly build race orders
Easily make edits to racer information
Score your event with our

live timing and automatic scoring

system
Offer instant results to your racers through their smart phones
Print reports for your staff and riders
and whatever else you may need to provide the best race experience possible
RaceReady does everything your current system does, but with better functionality and added features that allow you to visualize every aspect of your event.
Results
Automatically post race results- no import or export required
Show accurate and up to date series points
Maintain your database of riders
Let your racers showcase their accomplishments from their rider profile
Create hype for your next event
When you use RaceReady, everything works together. Everything that happened on race day automatically gets posted online to your RaceReady account saving your staff time and your racers the hassle of having to wait.
You will be amazed by all the event planning capabilities that RaceReady offers. You now have one place where you can send racers to collect membership fees, submit waivers, and anything else you may need racers to do before they can sign up to race. Feeling ambitious? Plan your entire season in advance to save time later. Then, publish your entire event schedule so your racers can view event details and get registered in advance.
Want to boost your revenue? When you create an event on RaceReady you have the ability to pre-sell camping spots, practice wristbands, spectator tickets, event t-shirts and more!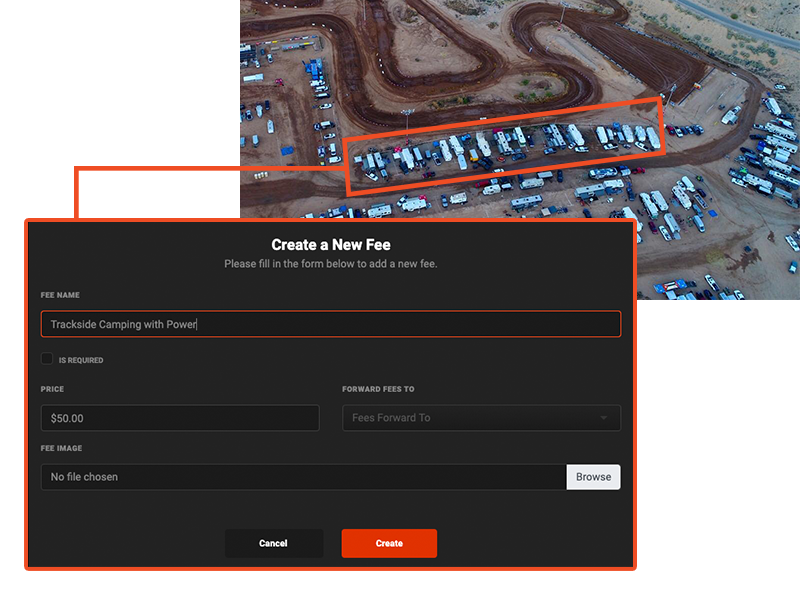 Save time and keep the registration line small on race mornings by offering your racers pre-registration for upcoming events. We make online registration simple for the racers and parents, allowing multiple racer profiles on one account so parents or team managers can sign up all of their riders at the same time and check out once.
Never worry about messy data transfers – all registration information automatically flows into the Race Management section of your account.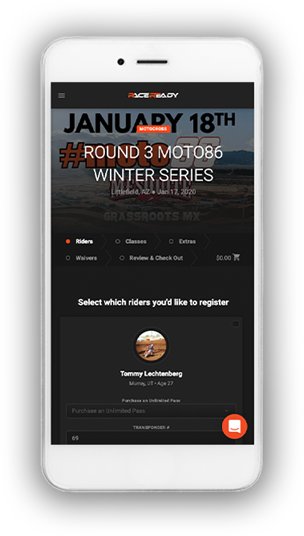 Live Timing & Automatic Scoring
Forget about expensive transponders or hardware costs. We built a world-class live timing system for ANY size promoter to provide their racers and staff with lap times and instant results straight from their smart phone.
Every time someone crosses the finish line, data is automatically populated in the Race Results section of your RaceReady account.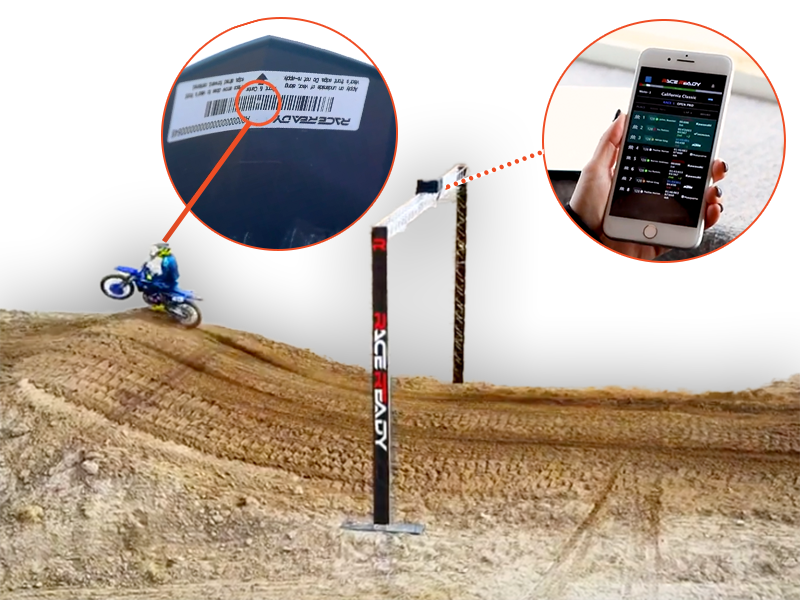 RaceReady has all the same tools that you are used to using, we just gave them a facelift and added modern features like a drag and drop race order builder to make managing a race easier than ever.
The integration between online registration, live scoring, and your race management hub is seamless and automatic. Never worry about missing racer information or results.
Using RaceReady is so easy, anyone in your organization will be able to open a laptop and keep things moving forward.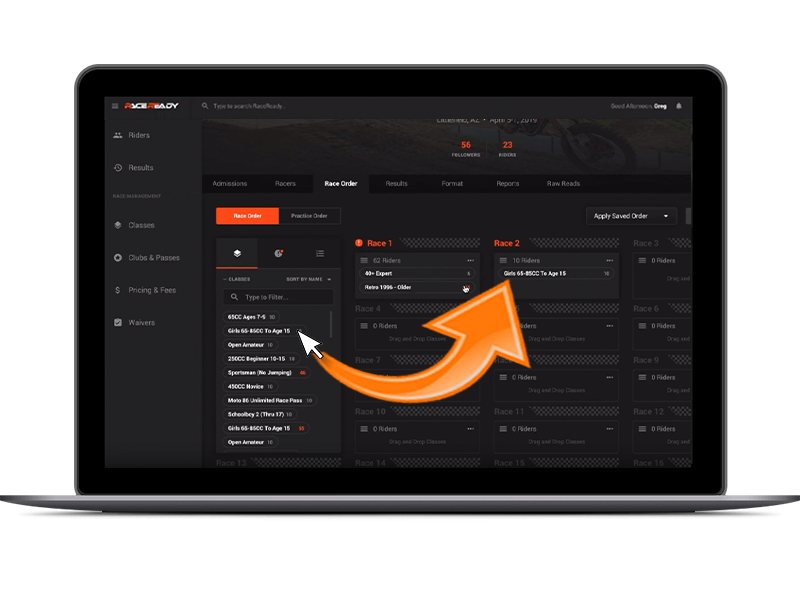 With results being instantly posted and series points being automatically updated, it's never been easier for racers to share their accomplishments and view accurate, up-to-date series points.
On your end, you'll quickly realize having everything in one central place makes it extremely easy to maintain your database and get ready for the next race.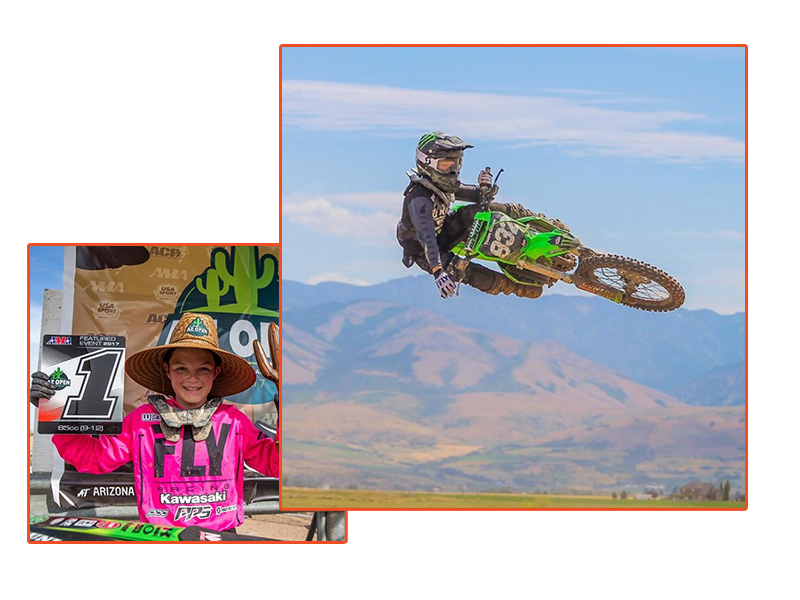 No upfront software fees & minimal equipment costs.
You only pay for RaceReady when you use RaceReady.
Contact us below to learn how other event promoters are using RaceReady for live timing and race management without spending a dime of their own money.
Take your EVENT to the next level today
Contact us
Send us your contact info and we will call you within 24 hours.