View Timing and Results For This Weekends Races
The Next Generation of Motocross Live Timing and Event Software
"The decision to switch to RaceReady was the best thing we've done in 23 years of our Series existence… You will never regret it. Our attendance drastically improved and our riders love it"
-Debbie Evans, SoCal MX Series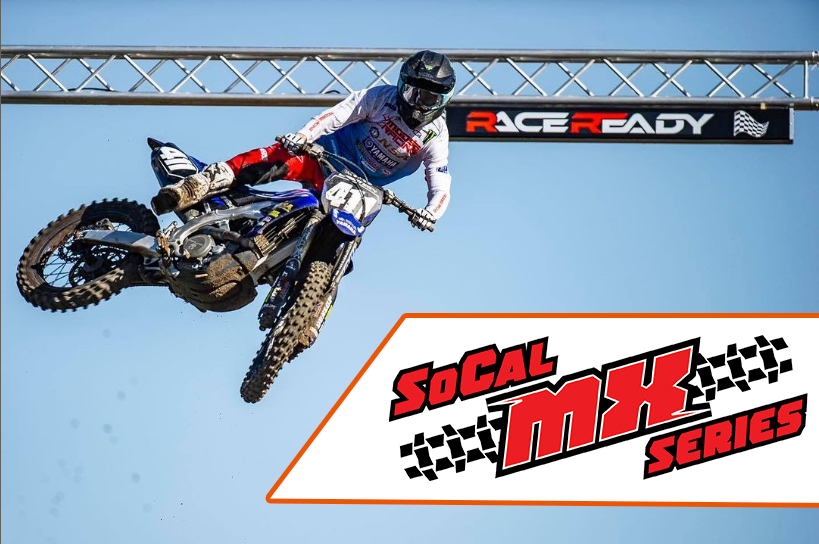 With close guidance from
top motocross promoters
from across the country, RaceReady has been designed to pick up where previous software stopped to meet the needs of today's promoter.
For the first time, promoters of any size can offer their racers fast and accurate transponder scoring without the expensive investment it takes to get battery assist transponders.
Combine that with our easy to use race management system and anyone with basic computer skills can run an event top to bottom. From registration to results, we've got you covered.
Fast & Accurate Transponder Scoring Made Affordable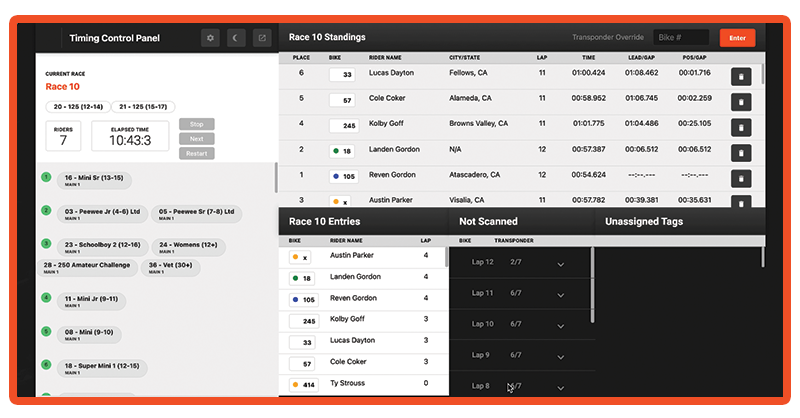 Our goal at RaceReady is to make professional level live timing and automatic scoring available to the grassroots promoter.
We do this by minimizing your upfront costs. From there, we set you up on our Pay-Per-Use model. When you use our system to score a race, we simply collect a small fee per entry.
The system is simple to operate, and as soon as a race finishes your results are posted automatically with the click of a button.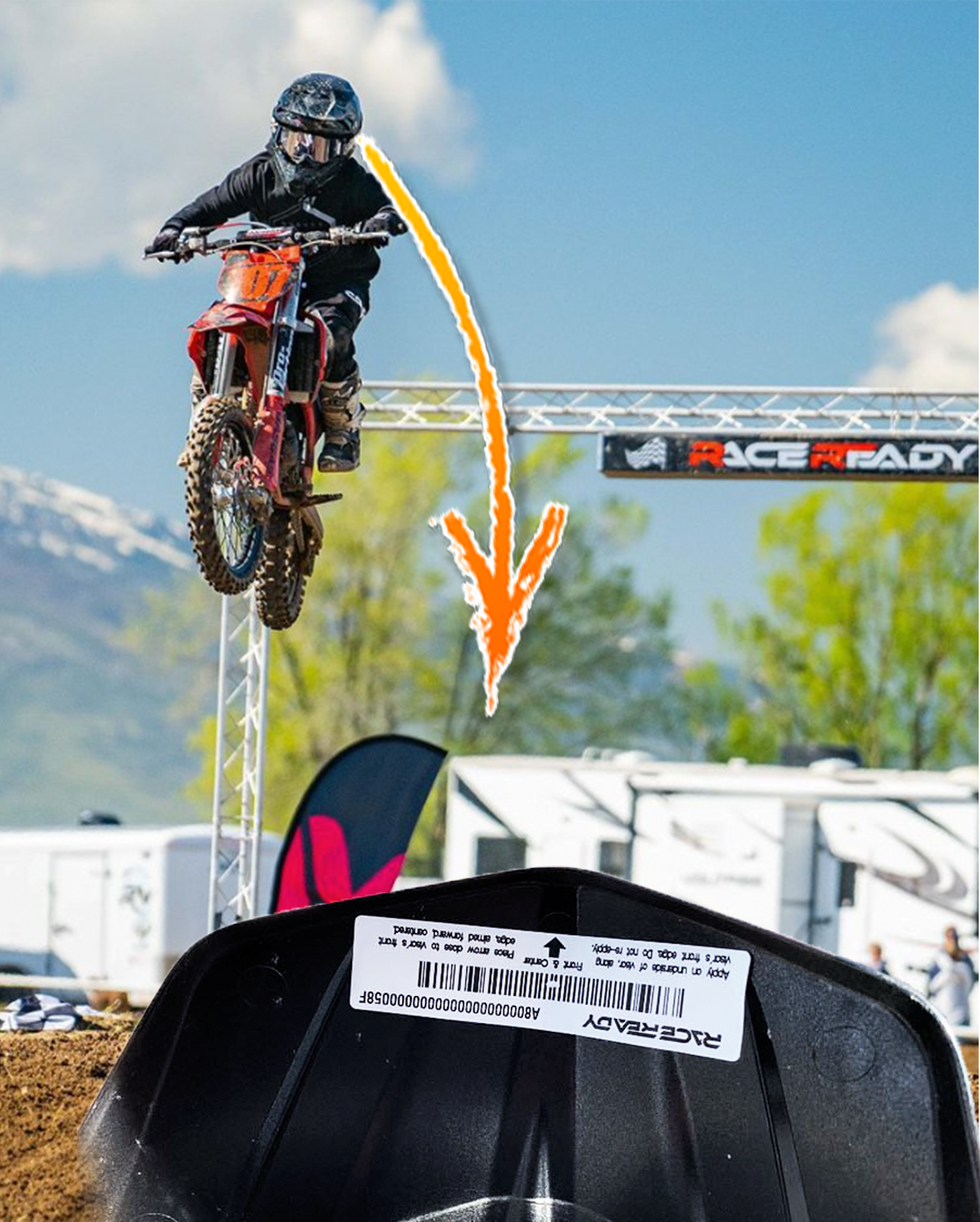 Yes, our "transponder" is just an RFID sticker that goes under the riders helmet visor. They are much more cost effective than a battery powered transponder, and they are just as accurate!
Forget anything you've heard in the past about RFID systems not working well in high speed environments like motocross. We've put in countless hours at the track testing the latest RFID technology with real promoters to get to where we are today. Our system works at speeds up to 100 mph and can read 50+ transponders per second, making it the most advanced RFID timing system in motocross.
These RFID transponders or "tags" as we call them- will typically last as long as the visor does. Racers don't need a new one for each race, with one tag they can race all season long at any event that is using RaceReady. If a racer has multiple helmets, they can purchase multiple tags and each will work interchangeably without issue.
Pre-Race: Event Creation & Registration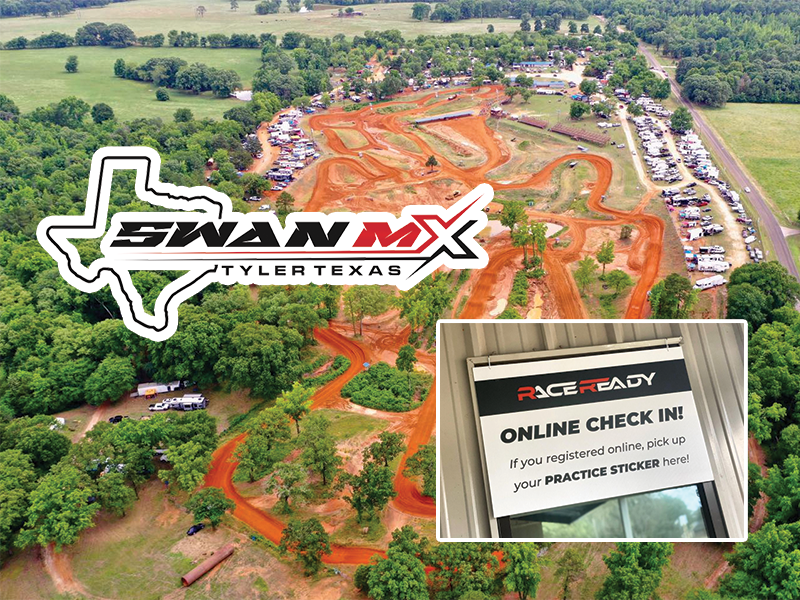 Running a race is easier than ever with RaceReady's event managment software. It takes just minutes to build an event in RaceReady and open it up for online registration. After your first event has been created, you can clone that event with the click of a button to build out the rest of your series.
When your racers register online through RaceReady, their information automatically transfers into your event so you never have to worry about importing registrations or entering in that data manually. On top of that, you'll see your registration money in your bank account within 24-48 hours of when someone signs up.
On race day, you'll be amazed at how fast you can get racers checked in and back to their pit to get ready for practice.
We are very excited to be able to use @racereadylivetiming and offer more for our riders. Love seeing the wonderful advancement in technology in the MX world!! Plus you can't beat their customer service!!
Race Day: Event Management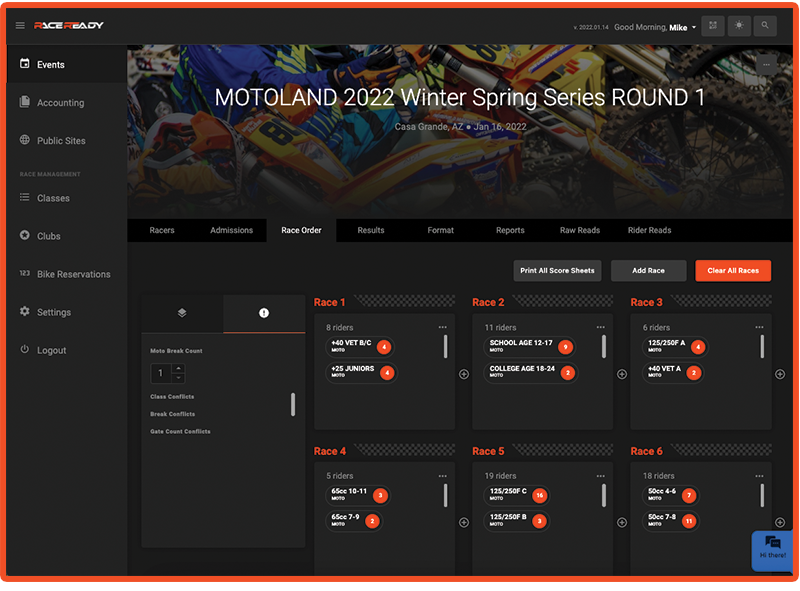 Race Management
If racer's didn't pre-register online, no worries. You can still quickly sign someone up on-site the old fashioned way and collect cash. From there you can:
Set up your race as a 1, 2, or 3 moto format or create heats, lcq's, and have your racers line up for a main event. It's all customizable to meet your unique needs.

Quickly build your race order and easily resolve conflicts without creating new ones.

Identify racers lacking a transponder + verify all racers have a working transponder during practice.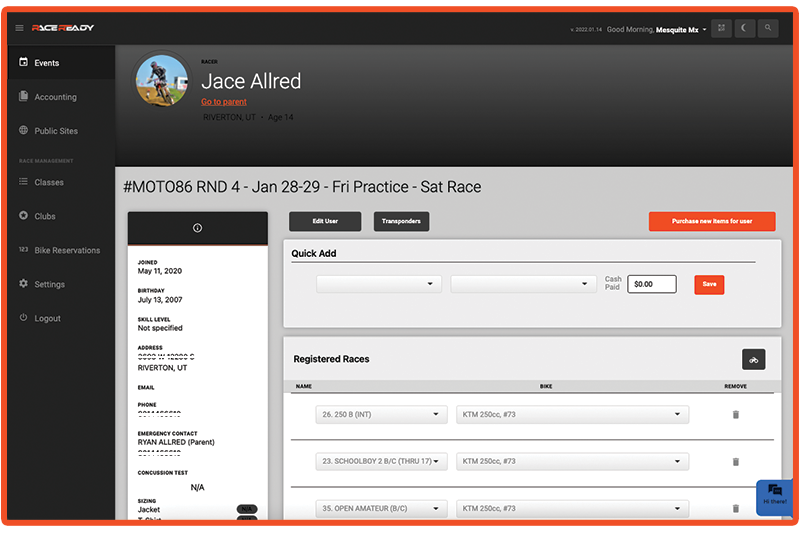 Racer Management
Our racer management page makes it easy to accommodate all of the frantic changes that your racers want to make.
"My bike blew up in practice, I'm going to ride my buddy's bike now"
"Can I move myself out of Schoolboy 2 and into Schoolboy 1 instead?"
"I'm too hungover to race 2 classes today, can I get a refund for the Over 25 class? I'm going to stick with just the Over 30 class today"
Whatever the situation is, it's quick and easy to take care of all your racers needs.
Our live timing and scoring system does require an operator to start and stop races as you drop gates and throw the checkers. Other than that, the races get scored automatically. If you combine multiple classes together in the same race, the system will automatically sort everyone into the correct classes for you. Racers and families will enjoy watching live scoring on their phones, and results will be posted automatically once the next race starts.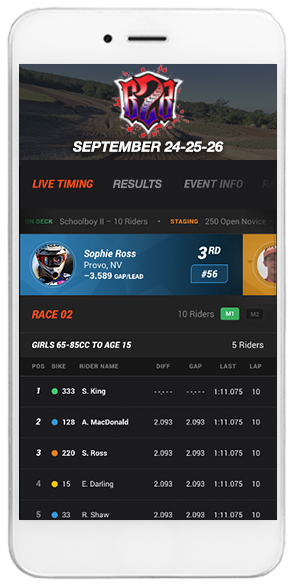 If you need to make some adjustments to the automatic results or if you are manually scoring a race, our manual scoring interface allows for quick and easy edits as well as rapid entry if you are inputting results from lap sheets.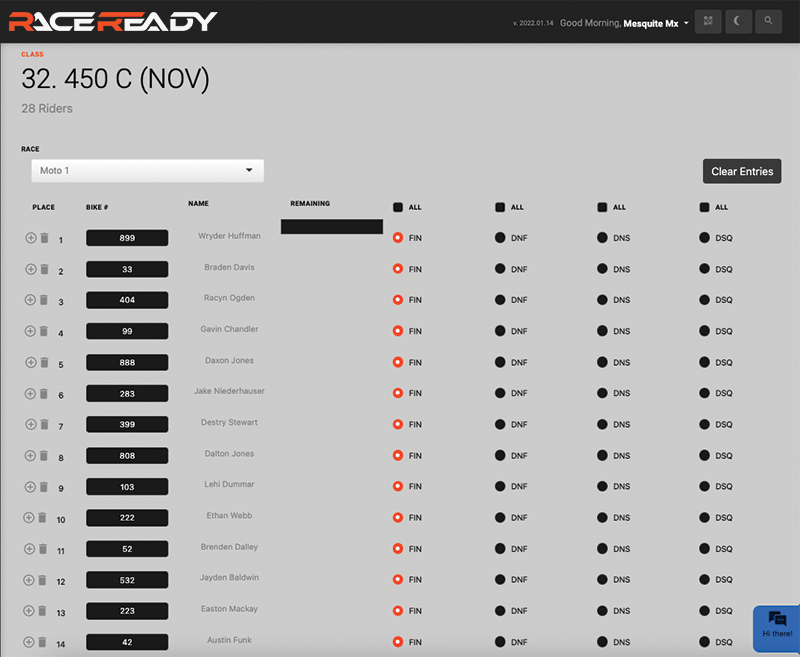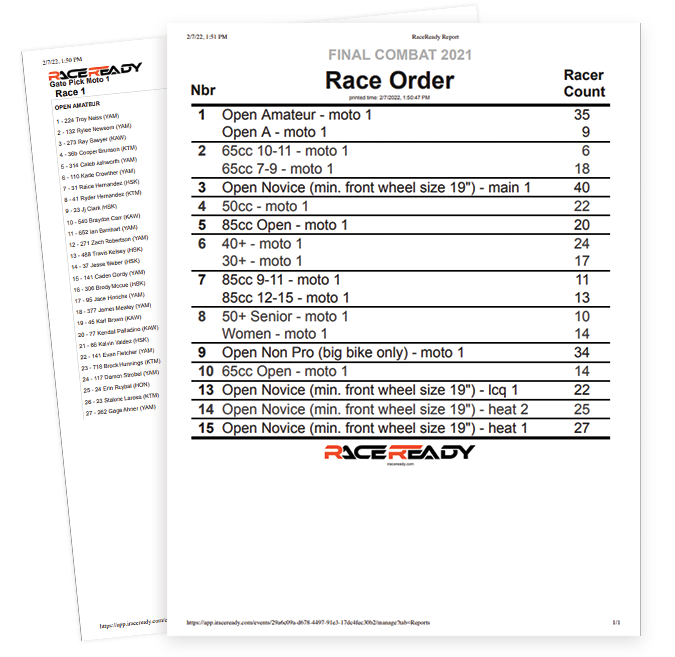 RaceReady generates all of the reports you need to run your event including:
Race Order
Announcer Report
Gate Pick Reports
Manufacturer Contingency Reports
and more.
Need something more specific?
Just contact us! We can usually help build you a custom report.
Post Race: Results & Pointskeeping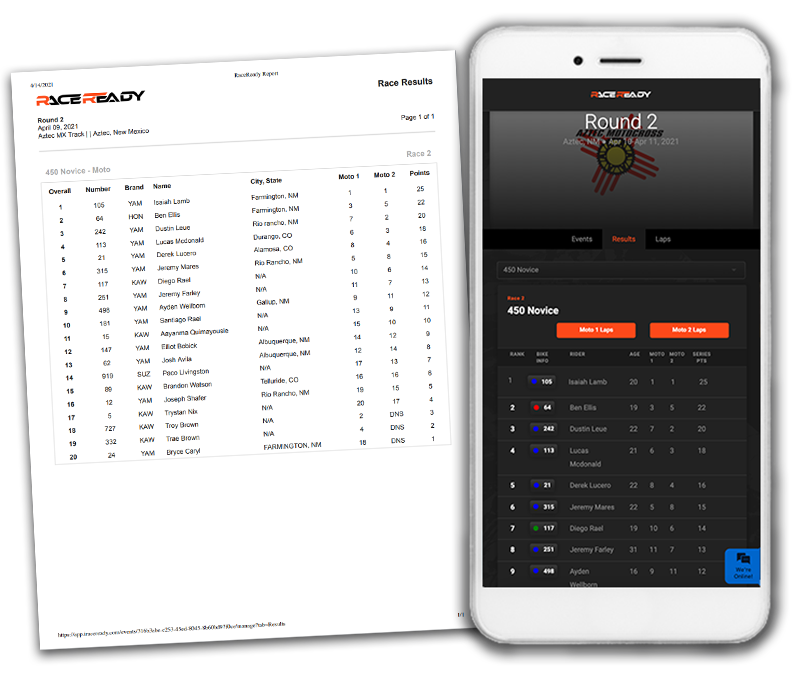 As each race finishes up throughout the day, those
results are instantly available
to print. Detailed results are also automatically made available online on your results page on our website. These results will include each racers finishing position in each moto, points earned, as well as lap times for every lap of each moto.
Need to send your results to the AMA or your series pointskeeper that uses Trackside? Not a problem. After racing has finished and results are finalized, you can export a compatible results file with the click of a button and send that to whoever needs it.
Running your whole series on RaceReady? To start, when you build your series you have the ability to customize your points table and even pay points by moto rather than overall finish.
Once your settings are saved, your points will update automatically as soon as racing finishes for the day. Updated points are always available to view online, and you can also print an updated points report whenever you need to.
Promoters Across The Country Are Switching to RaceReady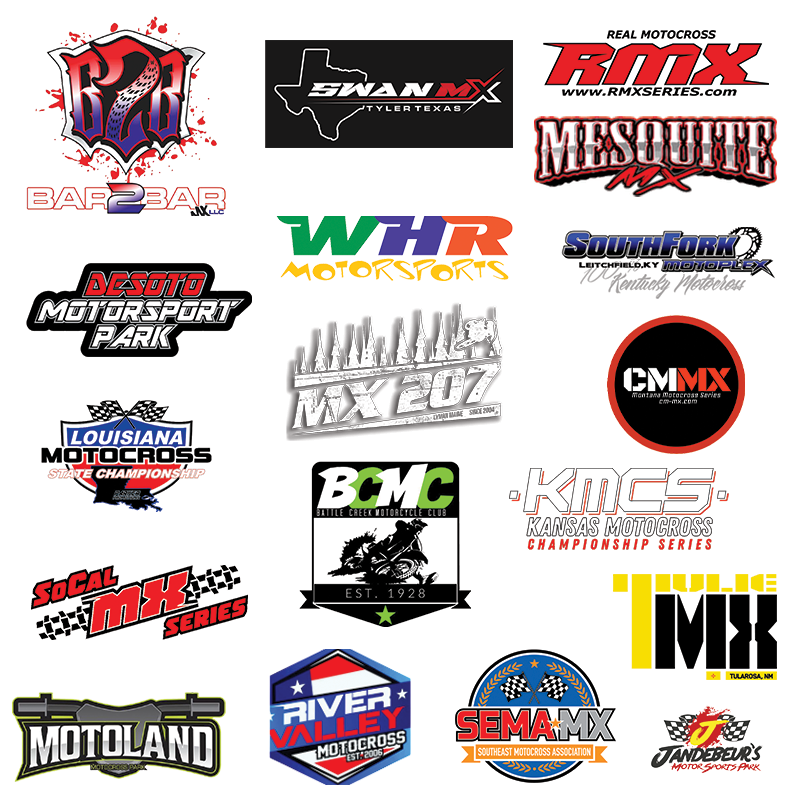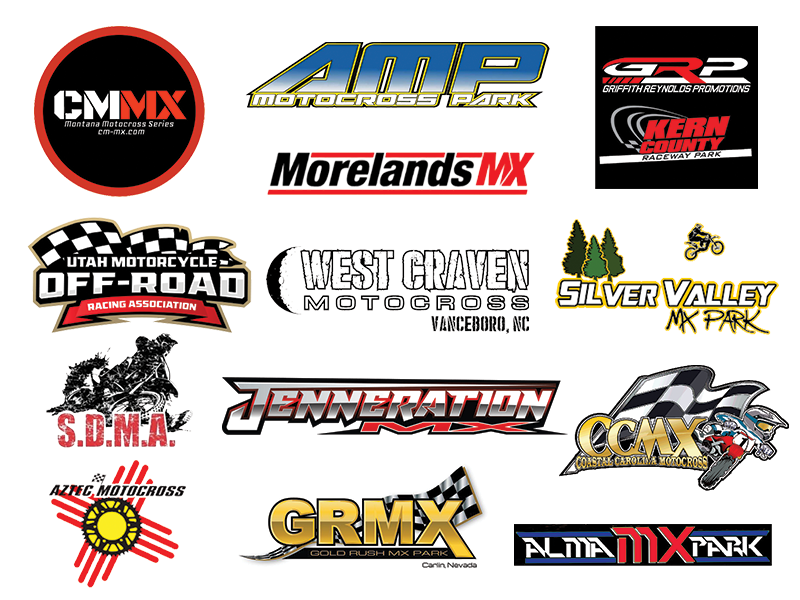 Take your EVENT to the next level today
Contact us
Send us your contact info and we will call you within 24 hours.